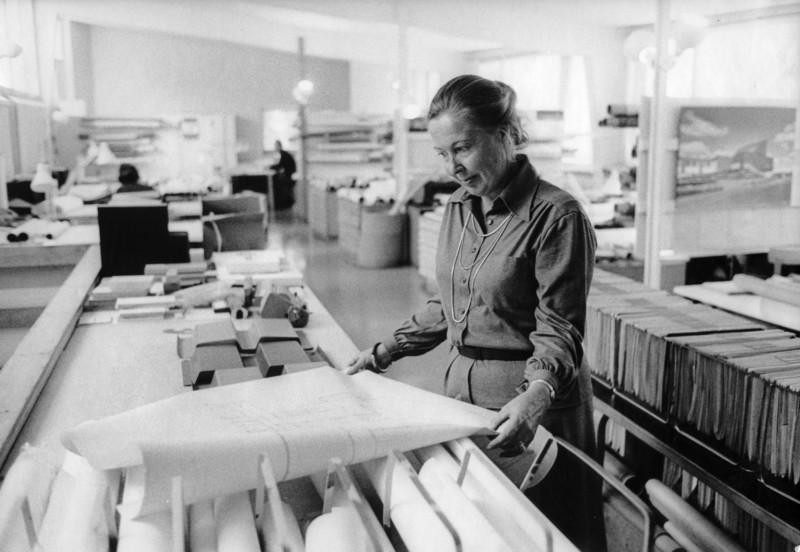 In November 2022, it will be 100 years since the birth of the architect Elissa Aalto (1922−1994). Starting in the 1950s, Alvar Aalto's colleague and second wife played a major role in several of Aalto's architect's office's building projects. Elissa Aalto ran the office in 1976−1994, following her husband's death. The Alvar Aalto Foundation will be celebrating Elissa Aalto in various ways during 2022, highlighting this gifted and determined architect and designer's life's work alongside her famous husband.
The new Elissa Aalto 100 product series comprises a notebook, postcard series, poster and towel. A photograph of Elissa and Alvar Aalto at Maison Louis Carré in France decorates the cover of the thread-bound notebook. The 16-part postcard series is attractively packaged in an elegant cardboard box, highlighting a selection of photographs of Elissa and Alvar Aalto working, relaxing and travelling together. The centenary poster features Elissa Aalto's profile drawn by the enamoured Alvar Aalto in the margins of his competition sketches for Kuopio Theatre in 1951. The pattern on the high-quality towel by Lapuan Kankurit was designed by Elissa Aalto.
Life and career of the architect can be seen with guided tours in English in two Alvar Aalto Foundation sites: Studio Aalto and Muuratsalo Experimental House.